What is Historic Data? What is On-Demand Data and what can I do with it?
Read on below to find out more.
Historic data refers to data in the form of social and news media posts that you can access for a duration in the past across all platforms on Radarr you have access to.
This data is different from ongoing data that you collect when you create a new query – where data is collected from the time you create a new query or set up a topic for tracking on Radarr.
EG. You can access posts from the past about a campaign you are looking to view social and news posts for or are tracking now. You can even locate and view posts and conversations about your brand that occurred before the time you started tracking them on Radarr.
You can access this supercool back-to-the past ability also called as On-Demand Historic Data by simply heading to the "Historic Requests" tab on your Radarr Query Builder or by clicking here.
There is no restriction on the date range.
There is no restriction on the date range.
Here are some quick steps that you can follow to get easily start requesting historic data for the topics of your interest on Radarr –
1. Click on the "Query Builder" button on the top left corner after logging into Radarr.
2. Click on the "Historic Data" tab
3. Click on "Historic Request"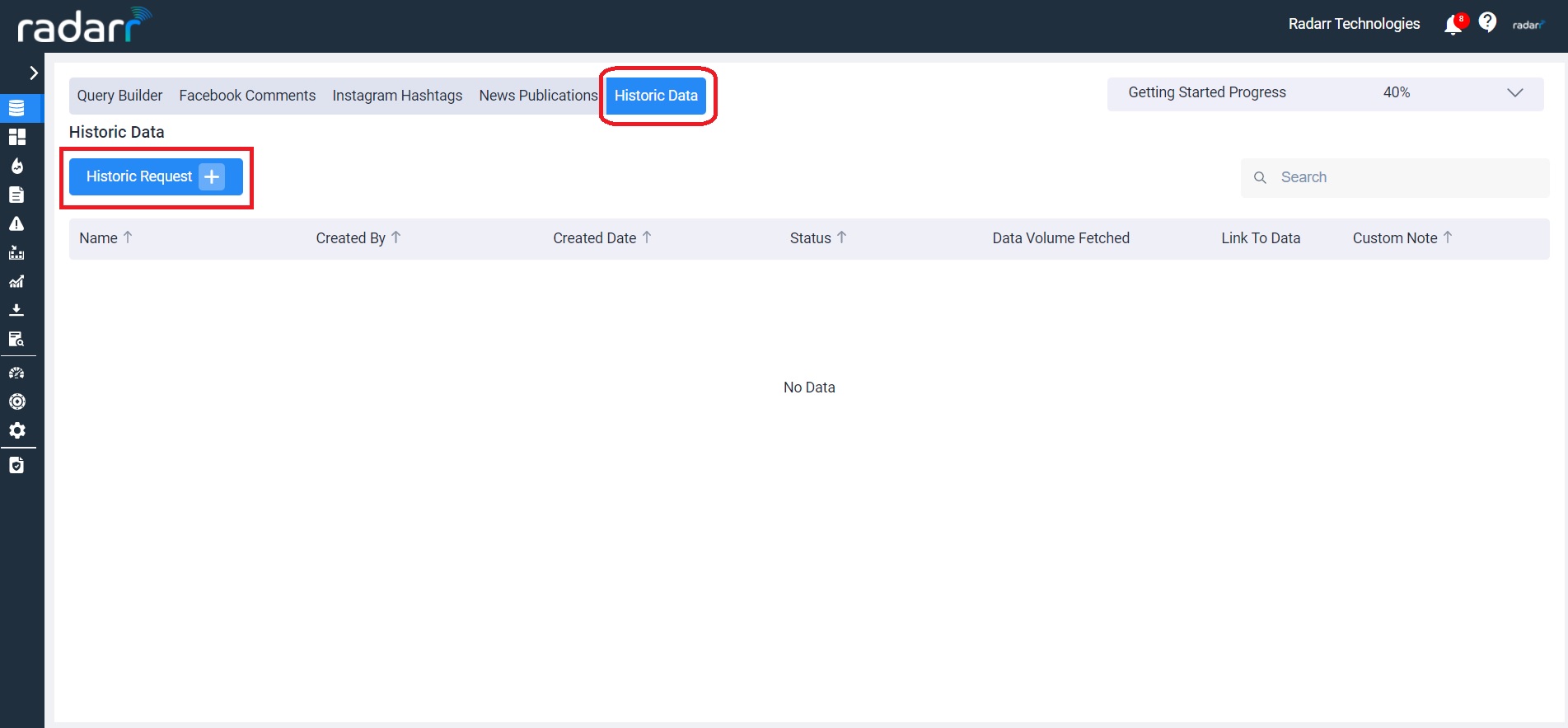 You will be able to view the below screen now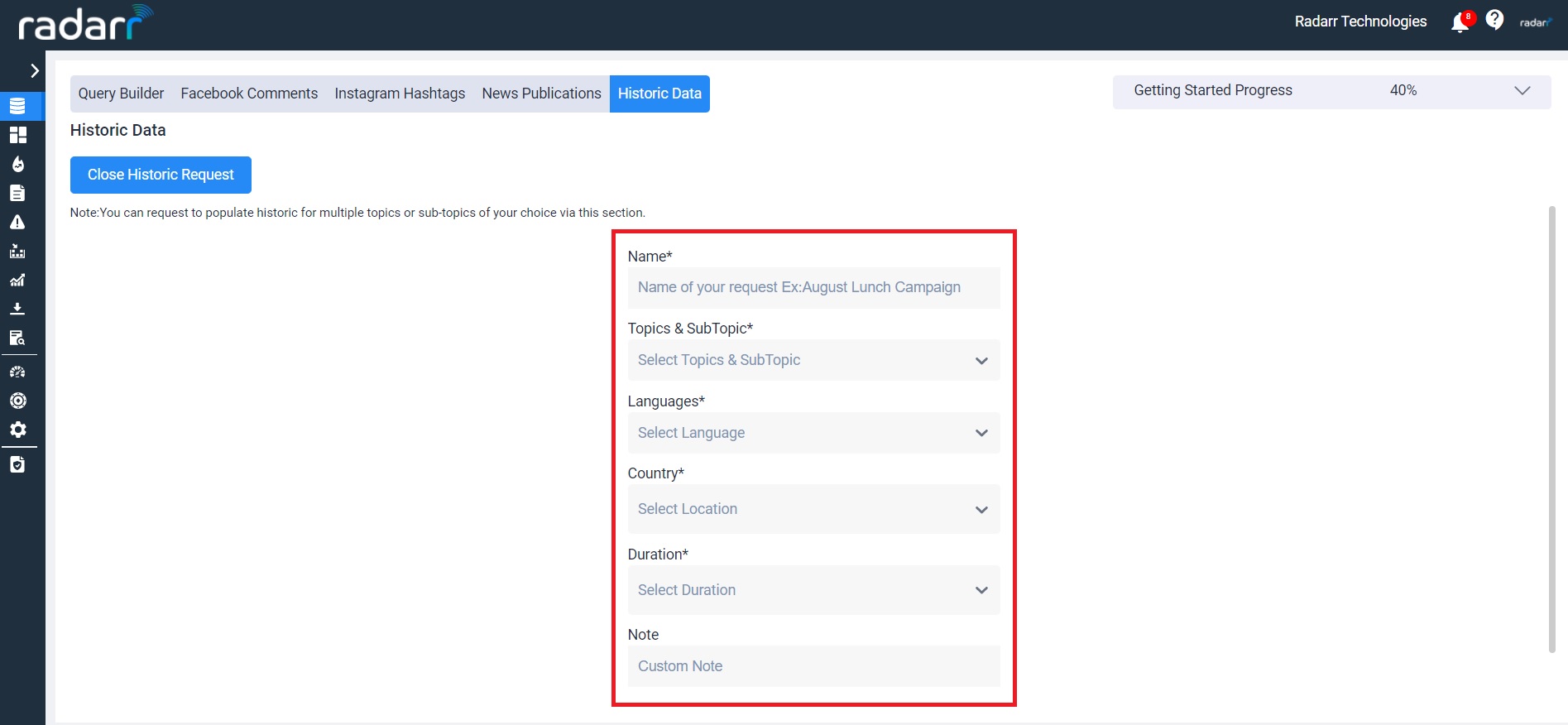 3. In this screen, you will now be able to specify the following before you generate your first historic data request –
a. Custom Historic Data Name –
You can provide a name here for your historic request. This is simply for locating later if required and for checking the status of your request. Make sure this name is unique and helps you easily identify what this historic request was for.
b. Select Topics & Sub-Topics required for historic data –
You can choose the topics and sub-topics that you'd like to get historic data for.
c. Choose a Duration you'd like to get historic data for –
Specify the duration of max 3 months here. Please note historic requests made for a duration selected equal to or lesser than 30 days will be approved automatically and start processing. For a duration of greater than 30 days selected, your historic request will be subject to an approval process which could range from anywhere between 30 mins to 24 hrs. Post successful approval and processing of data, it will be made available to you under the topics and sub-topics you had requested the historic for.
d. Select the Country of Interest –
Specify the country of interest from where you would like to track this data from.
f. Generate a Volume Estimate –
Clicking on the "Generate Volume Estimate" button, will allow you to get an estimate of the number of posts that could be collected for your request before you confirm it. This is useful for you to gauge how many posts you can expect as well as allow you to modify your duration so you can adjust the volume of mentions you will collect.
g. Submit Request –
Clicking on the "Submit Request" button will confirm your historic request and submit it for approval and processing.
Congratulations, you would have now made your first On-Demand Historic request!
How do I track the status of historic requests & view the historic data?
You can now track its status in the Historic Requests table which would appear right below the configuration window.
This table allows you to view and track the status of each of your historic requests made. You will also be alerted by mail if any of your historic is ready for viewing or has been approved and is currently being processed.
Please note that all historic data that is collected for your request can be viewed under each topic/sub-topics in the Conversation or Analytics panel of the Radarr dashboard as chosen for historic. Alternatively, if you simply wish to only view data that was collected for your historic, you can easily view it via clicking on the "Link" icon in the table here.
How do I track & view the historic data monthly allowance as well as consumption levels?
All historic data requests are also counted separately and are logged via the historic datameter so you can also keep a track of the volume of data you have fetched on a monthly basis for your historic requests.
By default, these will be set to an equivalent of your total monthly volume allowance.