Radarr's LinkedIn Analytics tool gives you all the information you need to track your brand's performance on LinkedIn—in one place.
When you connect your LinkedIn account to Radarr, you can:
View detailed analytics for your Company Page and profile
Compare your social media stats side by side
See how your content performs over time
Get real-time alerts when someone mentions your brand
Add multiple LinkedIn accounts to Radarr, and switch between them with just a few clicks.
Radarr's LinkedIn analytics tool also offers more detailed metrics than LinkedIn's native tool. These stats include post engagement, post clicks, audience engagement and more.
See a complete list of Radarr's LinkedIn metrics here.
Radarr is also great if you're managing one or more LinkedIn Company pages. Your Radarr dashboard lets you track vital stats like page views, follower growth, and engagement levels.
Track content performance over time and compare your page stats against competitors. You can use this data to adjust your strategy on the fly to ensure you're always getting the most out of LinkedIn.
Plus, use Radarr's Audience Discovery feature to measure the online behavior of LinkedIn users. This will show you how specific LinkedIn users engage with topics online. This is a great way to learn what your audience cares about so you can serve them more of the content they love.
For example, if your brand is trying to engage new audiences through its published posts, keep an eye on update analytics. If you want to grow brand awareness on this platform, track followers and visitors analytics.
If you're brand new to monitoring LinkedIn metrics, start simple. Here are some basic metrics you should be tracking.
Here are the best LinkedIn update metrics to track with Radarr.
Below is the glimpse of our LinkedIn analytics tool. Please click here to know how to navigate to Page Analytics section.
Radarr got metrics like Total Followers, Total Post Engagement Rate, Total Posts, Total Posts like, Total Post Comment, Total Comment Mention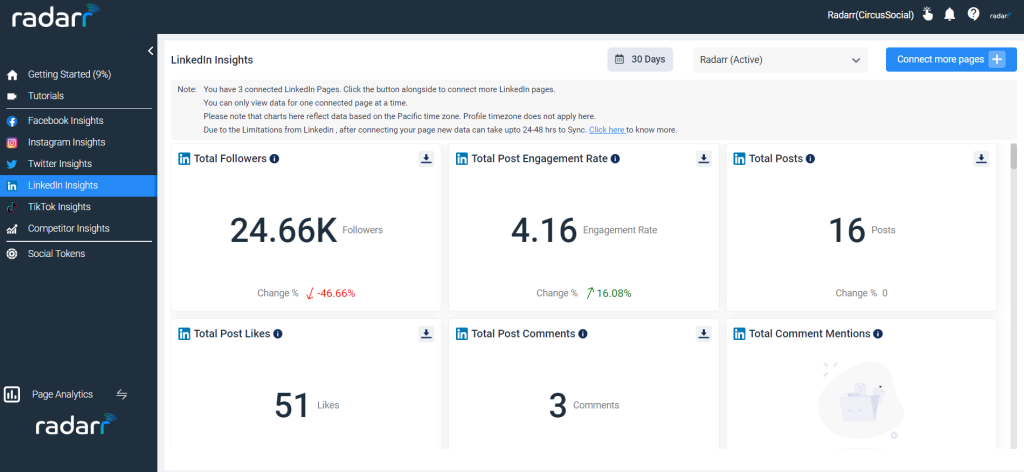 The below image shows the LinkedIn metrics that Radarr will help you to track like Total Post Impression, Unique Post Impression, Total Posts Click, Total Reposts and Total Repost Mention Count.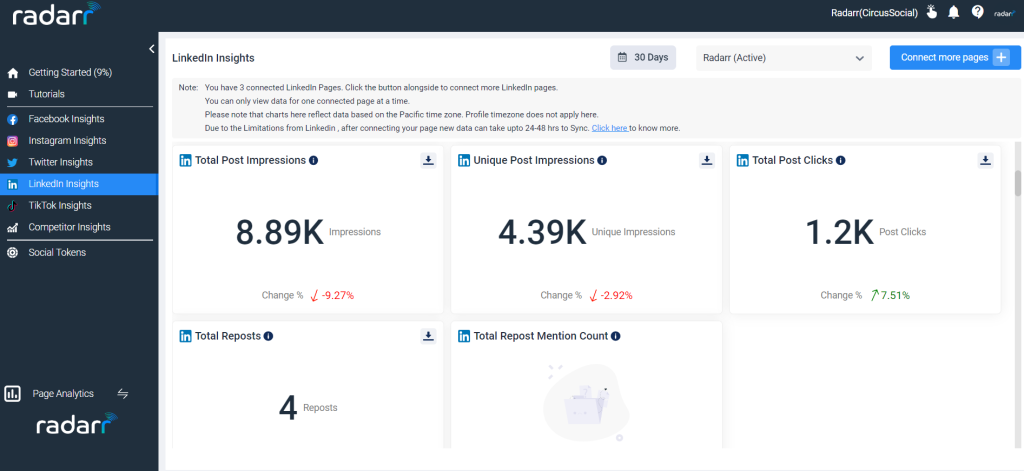 Radarr Insights
Radarr help you monitor ongoing conversation about your brand.
This tool helps you "hear" what people say about your brand on social media. You can use Insights to track mentions, highlight trends and join important conversations.
You can even compare audience demographics across networks or look at the aggregate picture of your audience for all networks combined.
Below is the glimpse of what Radarr got to tell you a lot about your audience — and how they feel about you.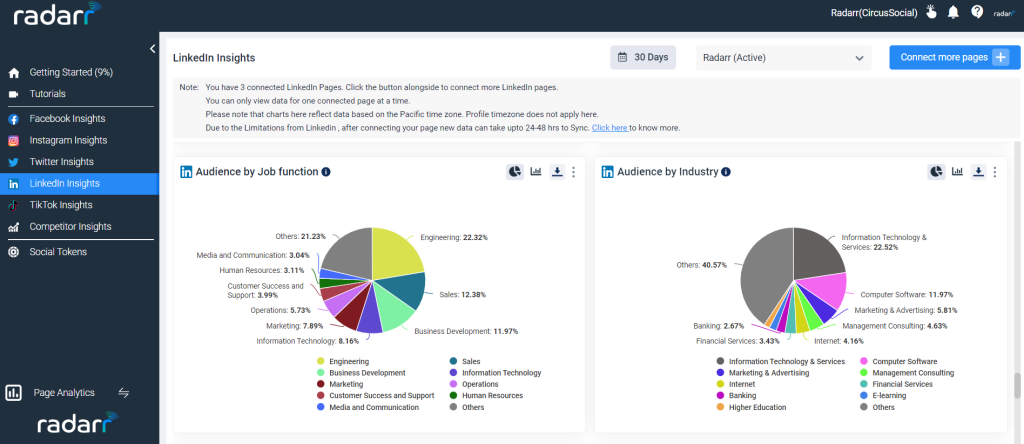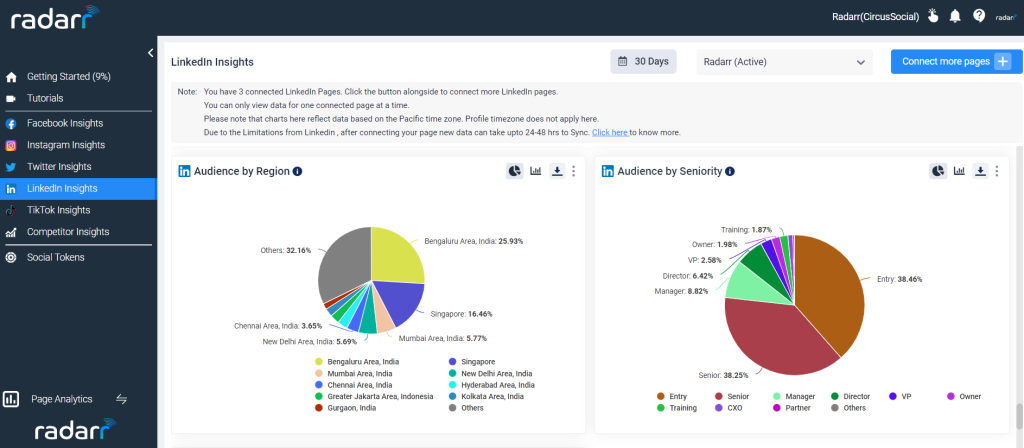 The below video will help you understand on finding LinkedIn Insights and how it works