Complete Guide to TikTok Analytics
How do you evaluate success on TikTok? There are many metrics to look at: follower count, likes, comments, shares. But TikTok analytics go deeper: they allow you to measure weekly and monthly growth, information about who is watching, and more.
With over 1 billion active accounts, every TikTok user has the potential to reach an enormous audience—but not everyone does. That's why checking your TikTok analytics (and understanding them) is so important. Track the right metrics, and you'll be able to hone in on the tactics that really work (and tell hype from reality).
If your brand is new to TikTok, analytics can take some of the guesswork out of your TikTok marketing strategy. Insights available to TikTok Business accounts can inform everything from when you post to what you post.
Check your TikTok insights in Radarr
You will find Tiktok insights in Page Analytic section of Radarr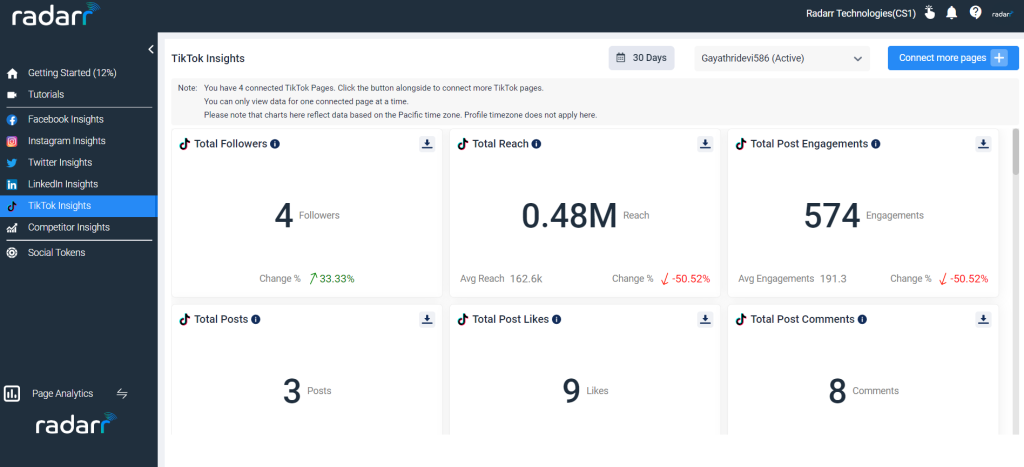 If you're a social media manager or business owner, TikTok is probably just one of the many social platforms you post content to. To see how your TikTok account is performing alongside all your other social channels, Radarr's detailed reporting dashboard might be just the thing for you.
You'll find performance stats, including:
Top Posts
Total Post Likes
Total Post Comment
Total Reach
Total Followers
Total Post Views
Total post Engagement